Skagway Port Guide
October 13, 2021 / updated March 28, 2022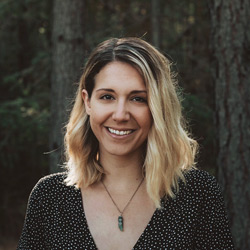 Skagway is something special, and whether you're here for a day or a week, you'll never be bored. It's got a ton of character, it has a fascinating past, and it's a gateway to epic adventures. Whether you're traveling here by cruise ship or on your own, these quick tidbits of information cover what you should know before you go. We're here to help you take the guesswork out of your planning and have the absolute best time in Skagway!
Jump to:
---
What is Skagway Alaska Known for?
Fueled by the crazed Gold Rush of 1898, Skagway became the diving board for stampeders journeying north to Yukon Territory in search of the jackpot. With an estimated 40,000 residents at the turn of the twentieth century, all sorts of outlaws and characters made their mark on the area. When the gold pittled out, Skagway began forging a new identity, though it retains much of the same frontier feel: many of the original buildings are still standing, including the historic brothel, now the Red Onion Saloon.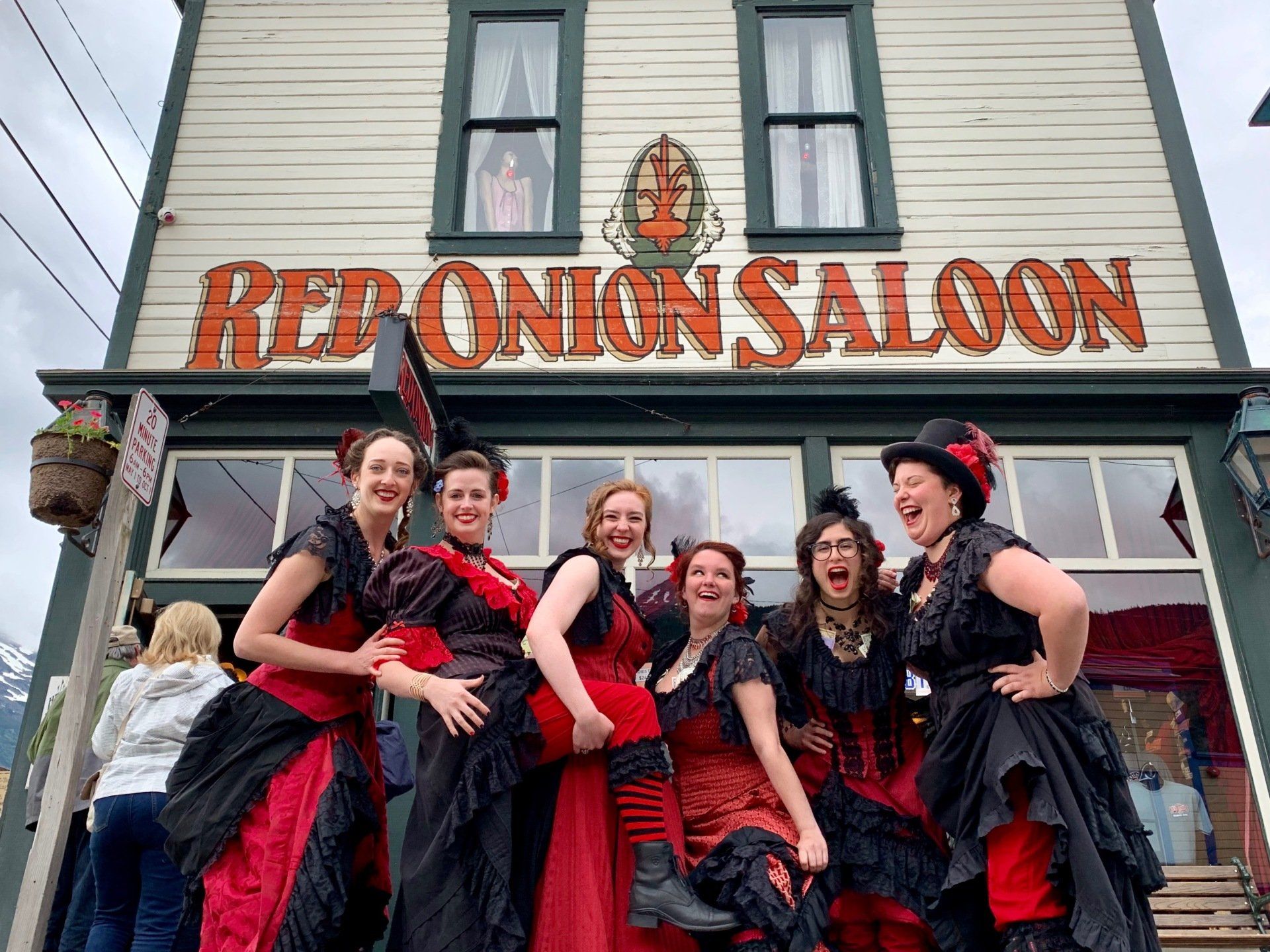 Nearby White Pass Summit stands nearly 3,000 vertical feet over the town and offers superb views of the Sawtooth Range. Only 15 miles from Skagway is the Canadian border, and many tours offer a comprehensive day trip through this route into the Yukon. Animated guides recount the stories and trace the route of the Klondike Gold Rush.
Check out our Fun Skagway Facts
---
Skagway Alaska Map
Resting at the northern tip of Alaska's Inside Passage, Skagway is a gateway to Canada's Yukon Territory.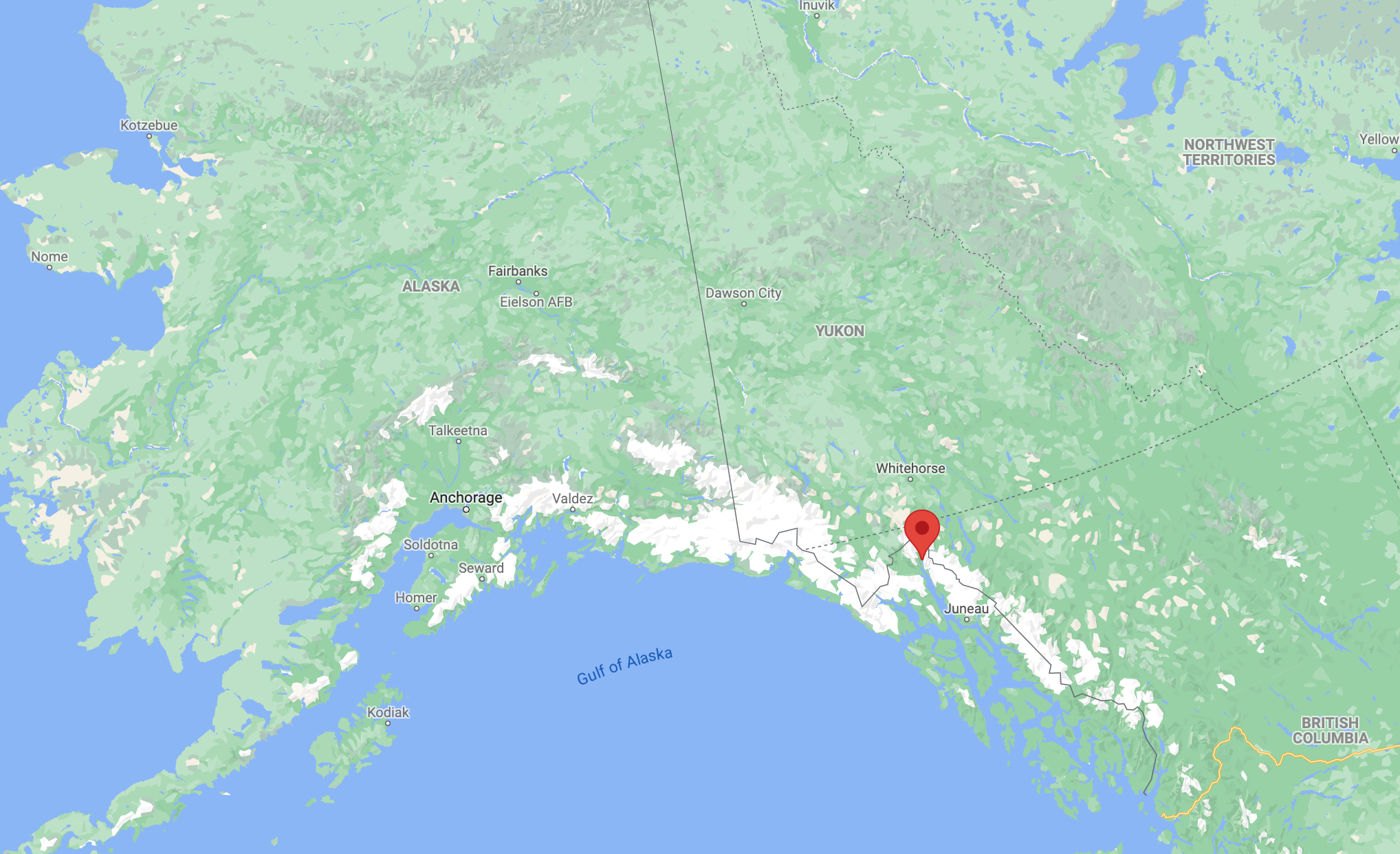 Skagway is a tiny town tucked in a valley between big, beautiful mountains.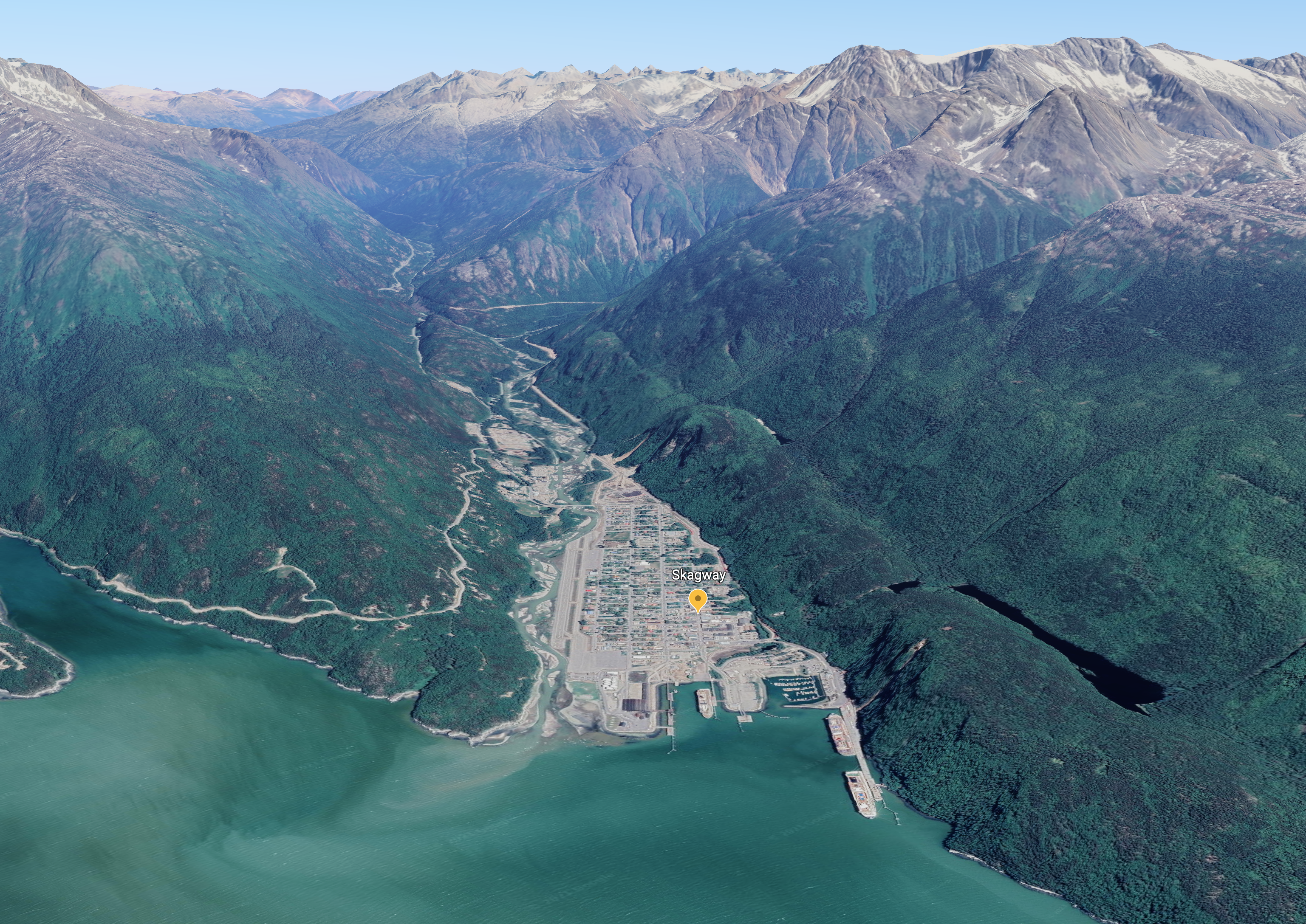 The Skagway Harbour has the Broadway Dock, Ore Dock, and Railroad Dock for cruise ships.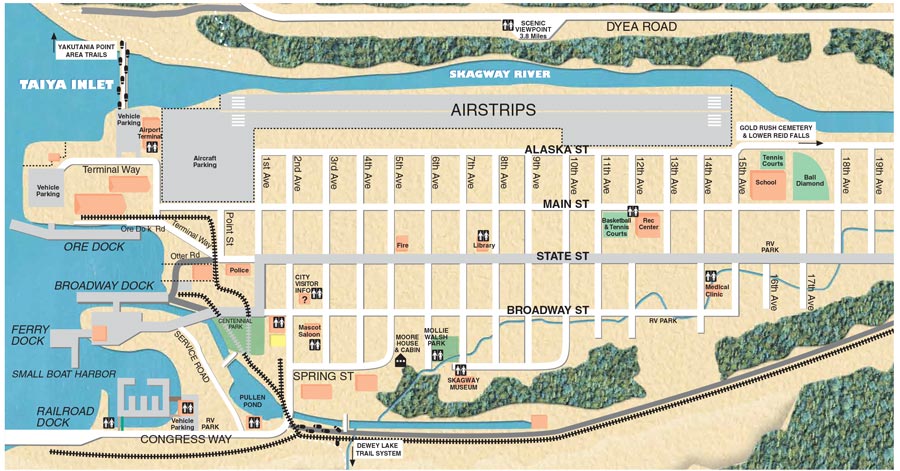 Shopping and dining opportunities line Broadway Ave. within walking distance of the cruise ships.
Must Read: Skagway Walking Map
---
Skagway Weather
The weather in Skagway is often sunnier and warmer than any of the other Inside Passage port towns, although it can get windy here.
The month of May brings the least amount of rain with an average of 1.54", and towards the end of the summer season the average monthly rainfall for September is just over 3 inches.
Further reading: Skagway Weather Guide
---
Getting Around Skagway
Downtown Skagway is very small and easily walkable. But if you want to explore outside of the downtown area, taking a guided tour is a great option.
There is no taxi or Uber service, but there are shuttle services.
For cruise ship passengers, the SMART Bus travels back and forth from the cruise ship docks to the end of downtown. If you missed the bus, it'll arrive again in about 15-minutes. The cost is $2 one way or $5 for the entire day.
For independent travelers, the Skagway Shuttle Service charges $5/person for rides in town, $10/person if you're going past the bridge to Liarsville, and $15/person to Dyea. The shuttle runs from 8am to 1:30am, or by appointment (907-612-0902).
The Dyea-Chilkoot Trail Transport Company provides daily shuttles to Dyea from 7am to 5pm, or by appointment (907-612-8024).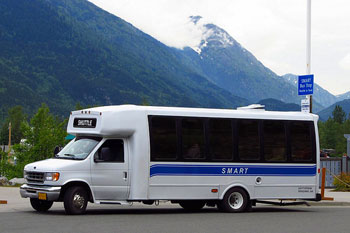 Car rentals are available through Avis. Owned and operated by local Alaskans since 1955, Avis has 10 locations through out Alaska: Anchorage, Fairbanks, Juneau, Sitka, Petersburg, Skagway, Whittier, Kenai, and Kodiak. They have a full range of vehicles for rent including SUV's, truck, sedans, and minivans.
Phone: (907) 983-2247
Address: 2rd Avenue & Spring Street , Skagway, AK 99840
Alaska Green Jeeps (now called DIY Jeep Tours) is great choice if you're looking for the freedom of a rental car with the convenience of a tour. This Skagway Jeep tour is unguided and allows you to explore at your own pace. You get your own personal Jeep for the day and can do what you please, exploring the region of Skagway, or up into the Yukon, or both. A one-hour-plus audio CD provides plenty of local history and lore, and car seats are provided for young children at no extra charge. Maps are provided for both of the local roads plus a mile-by-mile guide do both. This company is locally owned and operated.
If you aren't taking a guided bike tour with Sockeye Cycle, you can still rent a bike for a day and cruise around on your own. They offer a selection of bikes including road, mountain, hybrid and tandem. Phone: (907) 983-2851 Website: cyclealaska.com Address: 381 5th Avenue, Skagway, AK 99840
How do you get to Skagway Alaska?
Skagway welcomes nearly one million visitors each summer, most traveling by cruise ship as it's a popular port town for Inside Passage cruises.
You can drive to Skagway on the South Klondike Highway which connects Skagway Alaska to Yukon Canada. To cross the border you'll need to have a valid Passport, NEXUS Card, FAST Card, or EDL or EIC from a province or territory where a U.S. approved EDL.EIC program has been implemented. If you're bringing your dog or cat, you'll need to have a current rabies certificate.
Another way to reach Skagway is with the Alaska Marine Highway (AMHS). These car-carrying vessels stop all along Southeast Alaska as well as Bellingham, Washington and Prince Rupert, British Columbia.
If you're coming to Skagway from Juneau, besides the ferry you can get here with a 45-minute commuter flight with Alaska Seaplanes.
---
Skagway Highlights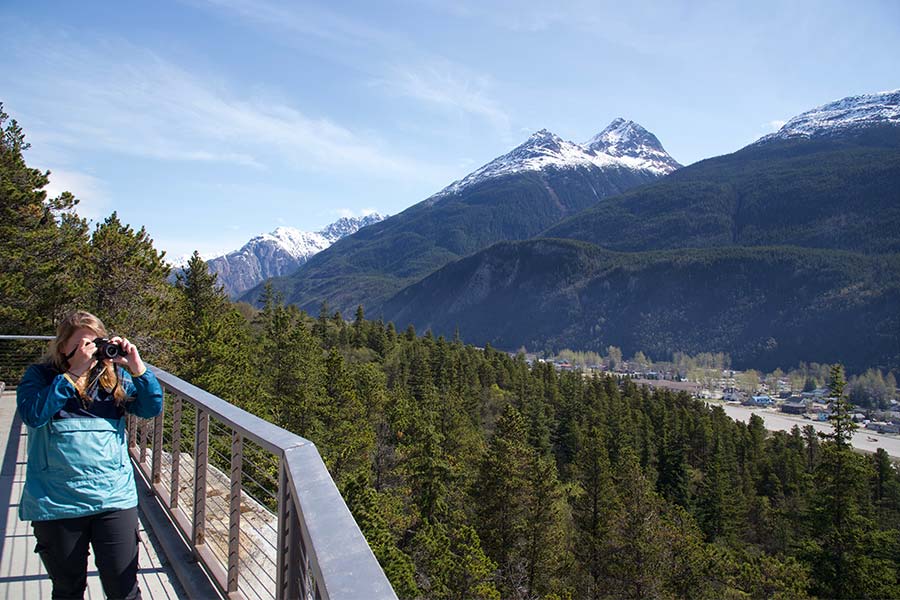 With so much history and adventure, it can be difficult to narrow down your list of things to see in Skagway Alaska. We're here to help! If you're a cruise ship passenger, it just so happens that many Inside Passage cruise itineraries have the longest day in Skagway. Often times, 11-hour days in Skagway leave you with plenty of opportunities to soak in all this destination has to offer.
Check out the topics below and our recommendations for the best experiences:
What is there to do in Skagway?
We've listed out the top 5 things to do in Skagway Alaska:
Food and Drinks in Skagway
Make sure to read our post on our top 5 restaurants in Skagway!
Breakfast, lunch, or dinner - we've got you covered from small mom and pop corner joints, stellar fish 'n chips options, and cozy sit-down restaurants.
TLDR: Seafood lovers will want to explore the Skagway Fish Co., located right next to the Railroad Dock and cruise piers. If you're looking for a drink, you have to visit Skagway Brewing and see if they have their famous Spruce Tip Ale on tap (it disappears quickly!). For thoughtfully prepared menu items, we'd recommend Poppies at Jewell Gardens, which serves up the freshest locally grown produce around. This is also a great option for those who take a glassblowing tour at the gardens! And if you're looking for spicy food, Starfire Thai won't disappoint. You'll find plenty of temptations to have a meal off the boat in this little Alaskan coastal town.
Skagway Brewing Co. This is THE place to go if you fancy yourself a beer connoisseur... or if you just like to drink it! Other spots in town serve up great Alaskan beers but nowhere else are you going to find unique, Skagway original craft-brewed creations that aren't found anywhere else on the planet. The fresh, unfiltered ales are made with pure Skagway water and the finest hops and grain from the west coast. The local favorite is definitely the Spruce Tip Ale, which means they can rarely keep it in the keg. If it's on tap while you're there, consider yourself lucky and try a pint. Otherwise, there's a whole selection of handcrafted brews like the Chilkoot Trail IPA, Blue Top Porter, Prospector Pale, and Boom Town Brown Ale. The food is delicious too; good burgers and fries, fish 'n chips, pasta, sandwiches, and salads as well as homemade desserts. Tasty and open year round so it's also frequented by locals. Recommended: Beer sampler (if you find one you like, get a growler to take home), Shady Grove (portabello sandwich), or Beer Braised Pulled Pork.
Phone: (907) 983-2739
Address: 204 4th Ave, Skagway, AK 99840
Bites on Broadway Run by two Southern boys, you couldn't ask for better service than you get at Bites on Broadway. Serving up a variety of affordable grub, Bites offers hot drinks, muffins, quiche, and deliciously dangerous daily desserts as well as hot soups and sandwiches. Recommended: BBQ chicken sandwich, reindeer sausage hot dog, salmon chowder, and any of their freshest baked goods.
Phone: (907) 983-2166
Address: 648 Broadway, Skagway, AK 99840
Starfire Who would guess that you could fine authentic, spicy, fresh Thai food in Alaska? Well, it's true. Starfire is a local favorite and also holds up to the taste buds of any Thai food connoisseur. Even people in neighboring Juneau and the Yukon regularly travel to Skagway just for the spicy goodness of Starfire. Starfire serves up typical thai curries, noodles, stir fries, soups, and appetizers like egg rolls and potstickers. Choose how many stars you want your meal to have; the more stars, the hotter the heat! It's hard to skip out on a sweet Thai iced tea or coffee while you're there to compliment the fire. Also, they have one of the best burritos in town that is so big it will probably last you more than one meal. Recommended: Gang Panang, Waterfall Salad (spicy!), Big Fat Burrito, or if you're nursing a hangover, try the drunken noodle.
Phone: (907) 983-3663
Address: 4th and Spring Street, Skagway, AK 99840
Olivia's Bistro Enjoy a garden to kitchen fresh meal at Olivia's restaurant. They offer a distinctive locally sourced Alaskan crab menu with a full bar and select wine list. Olivia's uses the finest and freshest ingredients including wild Alaskan king crab, salmon, halibut, and wild Alaskan game meats. Local favorites: Garden fresh mint mojito, Alaska draft beers, and their fresh margarita.
Phone: (907) 983-2289
Address: 655 Broadway, Skagway, AK 99840
Poppies The menu at Poppies varies, but one thing that doesn't is the quality of the food. Whatever they are serving up is guaranteed to be delicious and creative. They are open for lunch every day, occasionally for dinner, and are situated in a light and airy greenhouse at the historic Clark Farm (now known as Jewell Gardens). The gardens themselves also serve both as a show garden and community-sponsored agriculture program (CSA), which supplies ingredients for some of Poppies' lunch menu. Not to miss! They offer fresh salads, tea, sandwiches, quiche, and desserts. For a do-it-yourself lunch and tour pairing, book a glassblowing tour and show up early (or stay later, depending on your tour time) for a great activity and lunch at the Gardens. Recommended: Hot Rose Tea, Leek Soup, and Rhubarb Crisp.
Phone: (907) 983-2111
Address: Jewell Gardens, Mile 1.5 Klondike Hwy, Skagway, AK 99840
Bombay Curry For being so far away from India, Bombay Curry sure is authentic. Run by an Indian family, Bombay Curry serves up legit masala, paneer, vindaloo, biryani, korma, and other common Indian dishes. Choose between their chicken, lamb, shrimp, or vegan options. Their lunch menu is affordable and can be served in a rice bowl or wrapped in nan like a burrito, ideal for a grab and go meal. They have a good selection of different nans as well as other unleavened Indian breads. If you are in the mood to sit and enjoy a meal, there's usually a big TV playing some very entertaining Bollywood movies or Indian pop music. It really sets the mood for Indian food in Alaska! Even if you aren't hungry, just grab a mango lassie, sit back, and become mesmerized by the Bollywood dancers on the screen. Recommended: Lamb Vindaloo, Mango Lassie, Garlic Nan.
Phone: (907) 983-983-2400
Address: 302 5th Ave, Skagway, AK 99840
Glacial Coffeehouse This is the local favorite for a quick breakfast and good Alaskan roasted coffee. Whether its early morning or late afternoon, stop in and select from their variety of freshly made sandwiches, wraps, soups, signature smoothies, and pastries. Their bakery puts out some of the best confections in town and their fresh homemade bagels are unmatched, even if you're coming in from New York. If you're feeling under the weather, take advantage of the delicious additions to their smoothies like wheat grass, whey protein, spirulina, or an immunity boost. Their coffee is roasted down in Ketchikan by Raven's Brew and is delicious. Recommended: Southwest Wrap, Cabin Fever Smoothie (PB & Chocolate), and the Super Bagel.
Phone: (907) 983-3223
Address: 336 3rd Ave, Skagway, AK 99840
Sweet Tooth Cafe If you're looking for a good ol' fashioned American diner experience in Skagway, the Sweet Tooth is your spot. A local favorite for breakfast, Sweet Tooth serves up your typical American breakfast: omelets, bacon, eggs, biscuits & gravy, pancakes, and keep those refills coming on the cup o' joe. Sweet Tooth bakes their own bread, which makes their French Toast the best in town. On top of the hearty breakfasts, Sweet Tooth offers up a good lunch with local seafood, good burgers & fries, sandwiches, and soups. Sweet Tooth also delivers on their name by offering fresh donuts, milkshakes, and floats to satisfy your sugar cravings. Daily specials, breakfast and lunch only. Recommended: French toast, pancakes, roast beef and cheddar sandwich, hand-cut French fries.
Phone: (907) 983-2405
Address: 315 Broadway, Skagway, AK 99840
Lemon Rose Bakery Fresh bread daily, sweet and savory pastries, muffins, cookies, scones, cinnamon rolls, calzone, sandwiches, and fresh coffee. Recommended: Their fresh baked potato bread.
Phone: (907) 983-3558
Address: Corner of 5th and State, Skagway, AK 99840
Kone Kompany Got a sweet tooth? I mean a real sweet tooth? Kone Kompany has all the cavities you could ever hope for and boy are they delicious. You might not think you're in the mood for ice cream but once you see someone walking down the street with a waffle cone and a hunk of creamy goodness melting off the top, you'll realize you have to cruise by Kone Kompany and get your fix. They also have a selection of fresh homemade fudge and other specialty candies as well as all the classics you'd expect from a candy shop.
Phone: (907) 983-3439
Address: 485 Broadway, Skagway, AK 99840
Skagway Fish Co If you want some delicious, fresh caught wild Alaskan seafood, you can't go wrong at the Skagway Fish Company. They have what you are looking for from salmon and halibut to oysters and crab - Fish Co. has got your fix for seafood! That's not all they serve, however. Fish Co. also has great sushi, rib-eye steaks, mashed potatoes, and vegetarian options. They have a good selection of beer and wine and offer a spectacular view, as well as interesting fishing equipment on the wall and other maritime artifacts. Recommended: King Crab, King Crab Bisque, Fish & Chips.
Phone: (907) 983-3474
Address: 201 Congress Way, Skagway, AK 99840
Bonanza Bar & Grill The Bonanza is a big space so if you are traveling with a bigger group or every other place seems packed, this is a good spot for breakfast, lunch, or dinner. They serve up some classic bar food like burgers & fries, halibut 'n chips, and mozzarella sticks. There are several TV's around which are usually playing whatever game is on. If you want to play the game rather than watch it, they have a couple of pool tables in a secluded back area - a nice spot to enjoy a beer and billiards. They also have a good selection of Alaskan beers, cocktails, and wine. Recommended: Halibut Burger, Halibut 'n Chips, Ribs, Champion Breakfast.
Phone: (907) 983-6214
Address: 330 Broadway, Skagway, AK 99840
The Station Bar & Grill This spot is off the main drag so when other places seem too crowded, sometimes the Station Bar & Grill is a quieter alternative. As its name implies, they serve up some good pies as well as seafood and steaks. It's a local hangout and has a nice outdoor eating setup if you come to town on a nice day. Also, if you feel up to a game of billiards, there is a pool table in the back. Recommended: Chicken Broccoli Alfredo, Calzone, Garlic Chicken Pizza.
Phone: (907) 983-2200
Address: 444 4th St., Skagway, AK 99840
---
We hope this guide helps you create the perfect itinerary for your visit to Skagway Alaska! Our team is here to help with any travel planning questions and to assist you with booking excursions for your cruise or independent travels. Don't hesitate to contact us! We look forward to showing you all that Skagway offers!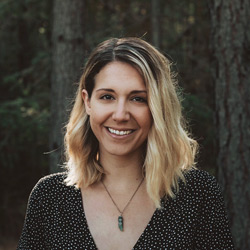 Cara L
Alaska Travel Specialist
Cara, our resident Marketing Coordinator, shares her passion for Alaska through our blogs and social media. She travels the Inside Passage each summer to explore new tours and hidden gems.
Best Tours in Skagway
The most popular and highly-rated tours from Skagway
Excursion Guides for Skagway Alaska
Check out these articles to futher help with your Skagway itinerary planning!