Best Places to Eat in Skagway
October 6, 2021 / updated January 29, 2022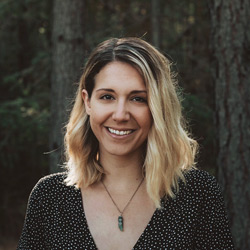 Wondering where the best place to eat in Skagway Alaska is? You've come to the right place! We've listed below what we believe are the top 5 best restaurants in Skagway. Most are located right downtown near the cruise ship docks. For such a small town, Skagway has a surprising number of delicious restaurants. Among our favorites are fresh local seafood, thoughtful pub fare, shockingly good Thai, and memorable pizzas. While you won't find fast food joints here, you can expect to discover delicious, local fare.
Check out the list below for some seriously good eats in Skagway:
Skagway Brewing Company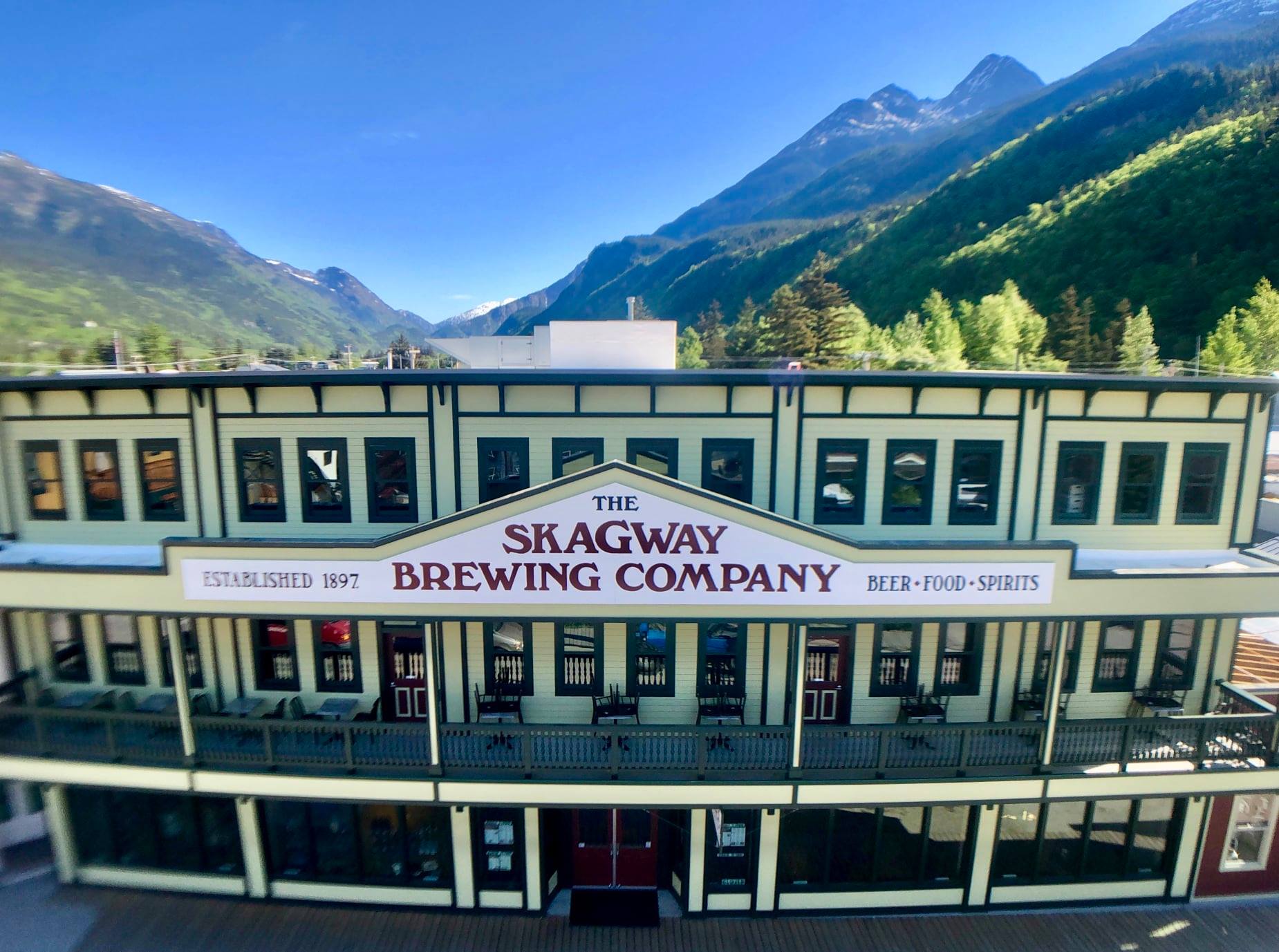 Hands down the best place to wind down after a tour or hike. Brew Co. (as the locals call it) opened up a brand new, three-story location in 2019, featuring a tasting room, a gift shop, an indoor garden, and a 1,500 square-foot beer garden. Brew Co. is famous for their Spruce Tip Blond, made from harvested spruce tips from the local area. Living in Skagway, I visited at least twice a week to get my fill of the smoked salmon dish and a pint of beer. They boast such a wide variety of great tasting brews that diners have the opportunity to take some to-go with bomber, crowler, and growler options! Open for lunch and dinner, the menu itself is pretty straightforward - wings, salads, and pastas but their burger selection is where Brew Co.'s food really shines. Not to mention that throughout the week there are nightly specials after 5pm. If you are looking to spice up your burger, Brew Co. offers the option to "step up your burger game" and choose bison, salmon, halibut, chicken, or vegetarian (Beyond) to replace your regular ol' beef.
---
Starfire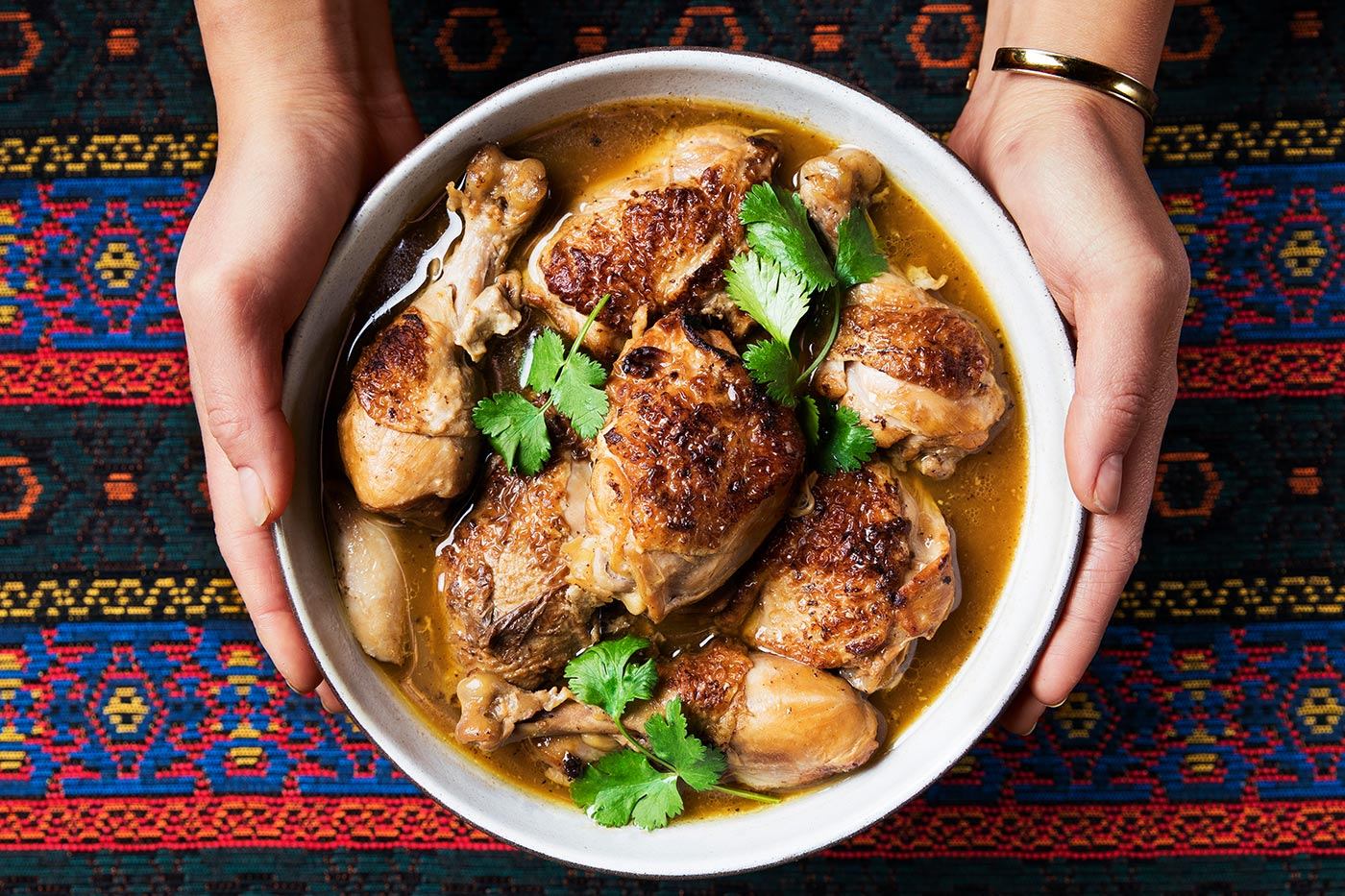 It might be hard to believe that a little restaurant in Skagway, Alaska serves up some of the best Thai food that I've ever had - but it's true! Starfire is truly a rare find. This gem is nestled right next to Brew Co. and includes outdoor seating as well with deals on specific days of the week. There are large portions of noodles, stir fries, and curries (my favorite is the Drunken Noodle). You can choose the spiciness for each and try some more exotic dishes such as "Pad Ped" with your preferred level of heat. The quality of food nor service won't disappoint at Starfire and you'll be craving to come back for more! * Website: starfirealaska.com * Address: 4th and Spring Street, Skagway, AK 99840 * Phone: 907-983-3663
Skagway Fish Company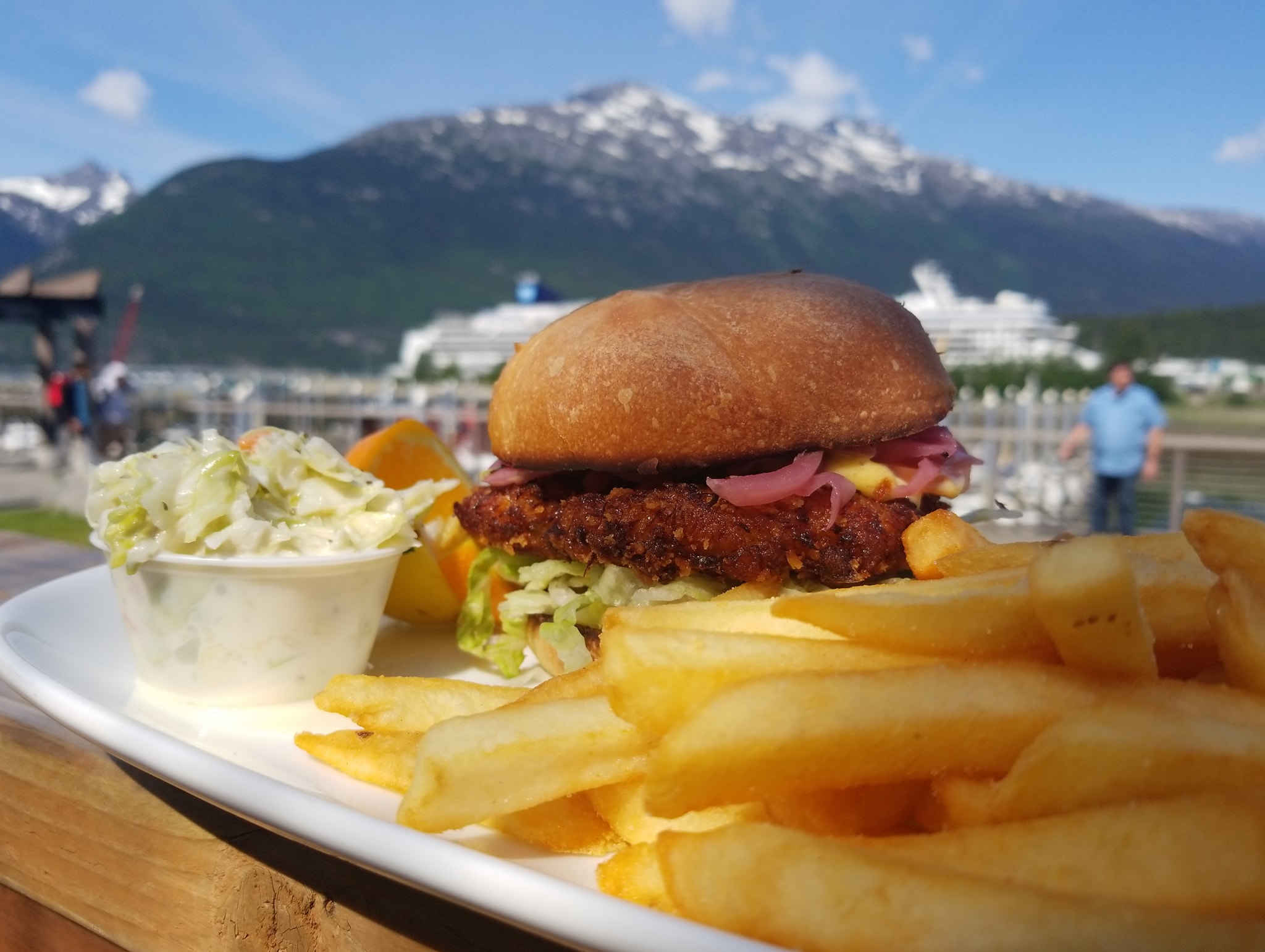 Offering some great harbor views with a convenient setting outside of the Railroad dock. The locals call this restaurant "Fish Co." and it certainly serves up some exemplary seafood options. One of my favorite menu items is oysters on the half shell and a bowl of chowder, but their menu also includes sushi, fish tacos, and sandwiches! And, Fish Co. also has an extensive wine and beer menu. Grab a cozy seat outside on the deck and watch for bald eagles flying over the inlet while enjoying some locally caught fare.
---
Red Onion Saloon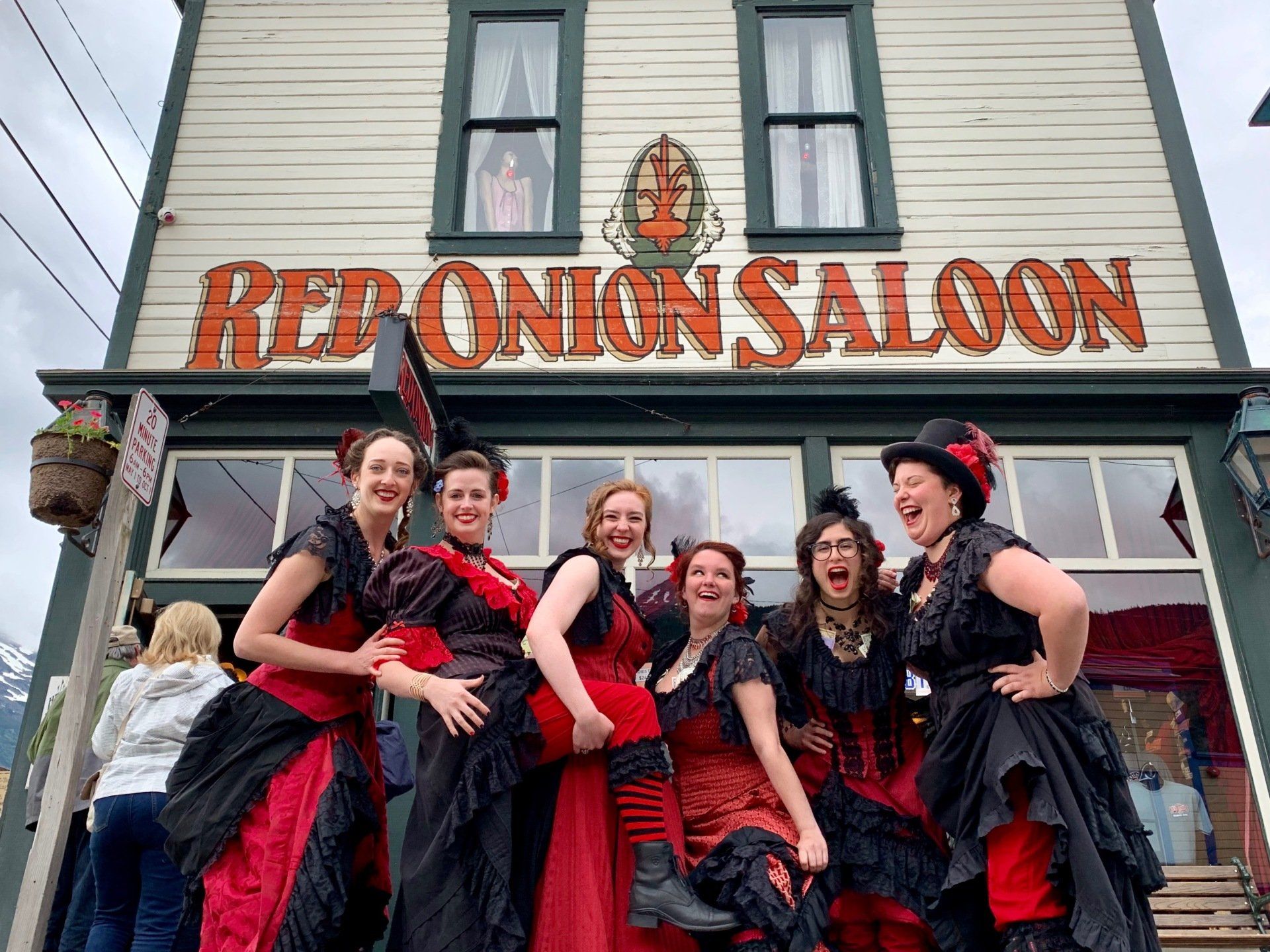 Craving dinner and a show? Red Onion serves up a great meal with some entertainment on the side. Located right on 2nd and Broadway, R.O. (as it's known as by the locals) is open for lunch and dinner. This restaurant has an extensive drink list, including pitchers of beers, cocktails, and shots (it is a saloon, after all). When you step into the Red Onion for the first time, you will notice the friendly servers dressed in madam costumes; this place used to be a brothel that has been converted into a museum and restaurant. R.O. has a pretty straightforward menu but I absolutely recommend their pizza - there are so many different, unique options. Madam Jan has always been my go-to, with whole chunks of garlic and goat cheese. Regardless of which pizza you choose, I guarantee it will be delicious! Not in the mood for pizza? The menu also features salads, sandwiches, and appetizers.
---
Glacial Coffeehouse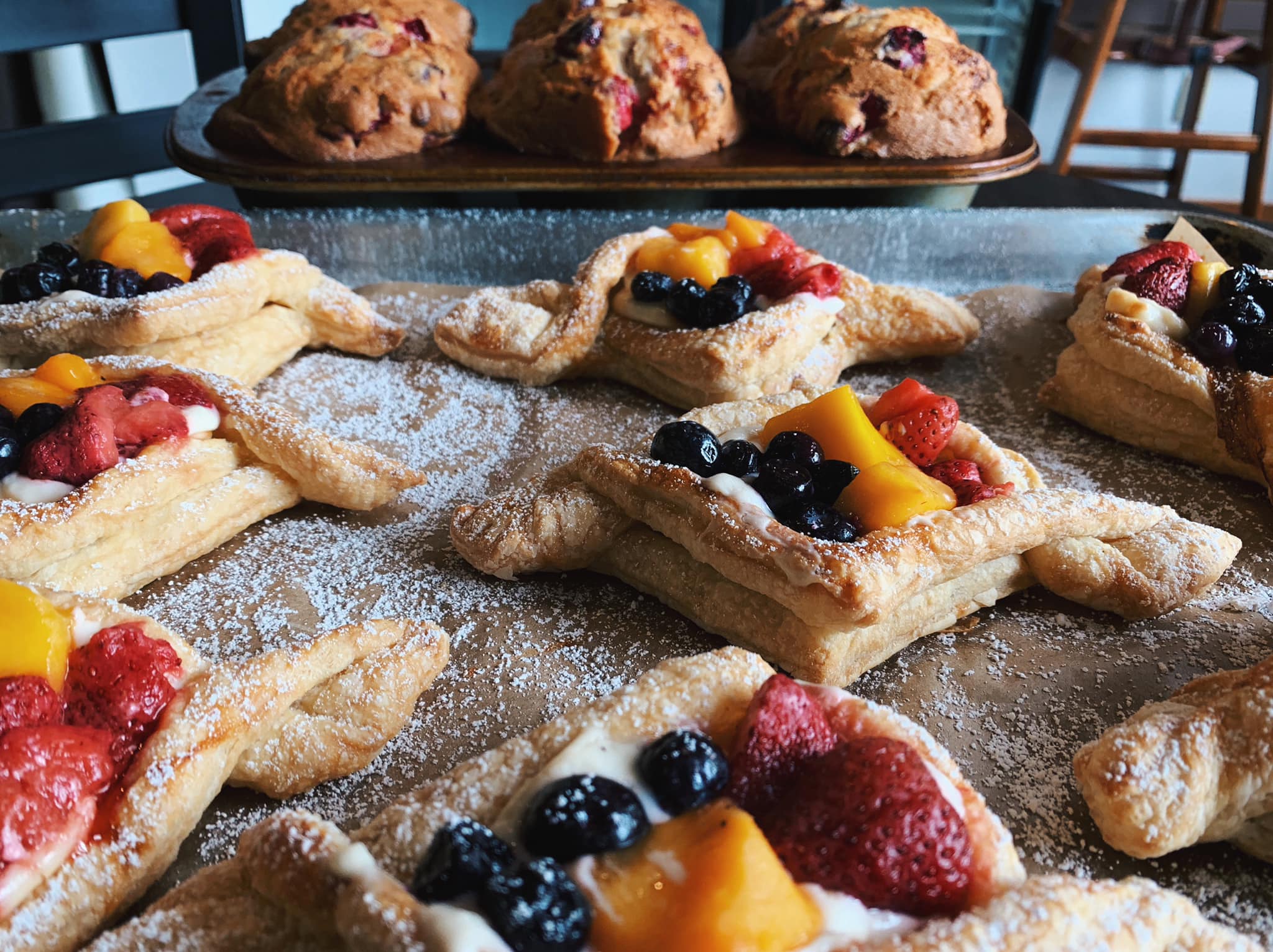 If you are looking for a quick and delicious bite to start your day, look no further than Glacial Coffeehouse. This local favorite is loved for its grab-and-go breakfast and coffee. Popular items include smoothies with whey protein or wheatgrass additions. Not to mention, Glacial serves up some dang good sandwiches and pastries. Savory or sweet, you'll find it at Glacial. As a born-and-raised New Yorker, my go-to is the Lox Bagel (with a Wildberry smoothie on the side)! It's common to find a long line each morning at Glacial - but be patient! The staff does a great job of moving fast and getting orders out quickly.
---
Hungry for more? Check out our Skagway Port Guide for additional restaurant listings and helpful information for visitors.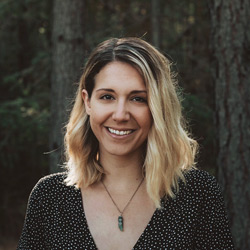 Cara L
Alaska Travel Specialist
Cara, our resident Marketing Coordinator, shares her passion for Alaska through our blogs and social media. She travels the Inside Passage each summer to explore new tours and hidden gems.
Food Tours in Skagway
Check out these Skagway tours that either include a meal or bring you to a local restaurant!
Resources for Things to Do in Skagway
More tips to help you make the most of your time in Skagway Alaska!