The 5 Best Skagway Shore Excursions
October 12, 2020 / updated September 23, 2020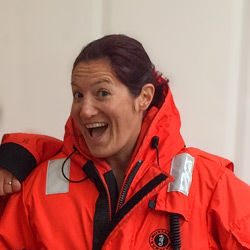 Skagway has a variety of tours to choose from and picking the right one can be a daunting task. We've listed out the Skagway shore excursions that consistently receive 5-star reviews and are also our team's personal favorites. Take a look at the tours below, and you'll have a much better idea of how you should spend your time off the ship in Skagway.
Browse all of our top picks for the best Skagway excursions!
---
Best for Families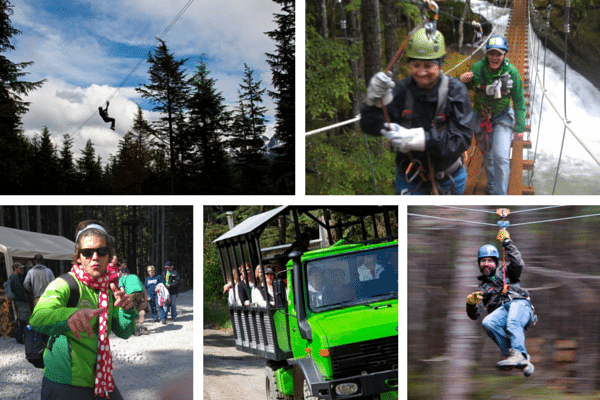 The Grizzly Falls Ziplining tour is one of the most popular tours in Skagway, and for good reason. The setting is picturesque, the ziplines are fast, and the guides are awesome.
Grizzly Falls Ziplining is a favorite for families because it's able to accommodate almost everyone (barring those with a severe fear of heights!). The Grizzly Falls course has seen people ages 6 to 96 (not kidding!), and the guides are highly trained in safety and bad jokes.
You'll go down 9 different ziplines (plus 1 or 2 training lines if needed). The fastest has a top speed near 40 miles per hour and the longest is over 2 football fields in length. The harnesses and guide-operated braking system means you can get crazy! If you're up for it, the guides will teach you tricks like hanging upside-down and front flips, all while soaring above the Alaskan rainforest.
The age limit for Grizzly Falls Ziplining is 6, and the weight limit is 50 to 265 lbs. The guide's top priority is safety, and they try their hardest to never turn anyone away unless it would be unsafe for that person to participate.
What guests are saying:
I've been zip lining all over the country and this is by far the most fun I've ever had – hands down! The ride up the mountain in a Unimog (monster truck) is really fun and scenic. The staff was incredible and so enthusiastic! You can tell they have fun all day! They teach you and encourage you to do tricks. The zips are fun and provide gorgeous views of the area. You zip over a high-speed stream a few times. Overall a really fun experience and I highly recommend it! Can't say enough about the staff!! -Daniel Russel
Learn more and book your Grizzly Falls Ziplining Expedition for your Skagway port date!
---
Most Scenic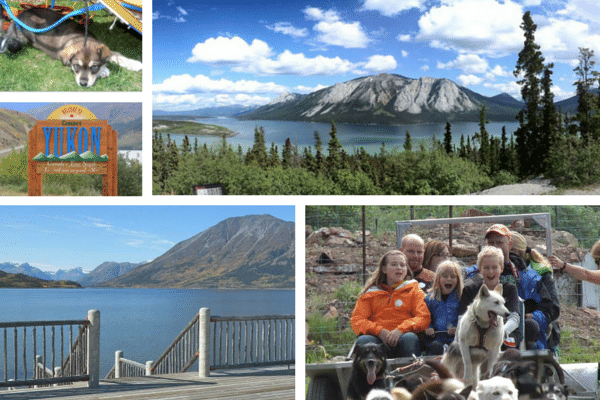 If you want photos that will make your friends jealous, you want this tour.
The 6.5-hour tour takes you out of Skagway, through the White Pass and British Columbia, and into the Yukon. Your guide will stop at several of the most scenic spots for plenty of photo opportunities. Be on the lookout for wildlife like bears and mountain goats!
Get your picture taken in front of the "Welcome to Alaska" and "Welcome to the Yukon" signs for a great memory of your trip. The guides are very knowledgeable on the history and local flora and fauna of the area, so take advantage! Even if you've been to Skagway before, we guarantee that you'll learn something new on this tour.
Lunch from the fantastic Caribou Crossing is included, along with entrance to the great wildlife display and Mountie museum. For a little extra, you can even experience the thrill of riding in a sled pulled by Alaskan huskies, some of whom competed in the Iditarod!
This tour is fairly sedentary, so if you're looking to get outside and play, this probably isn't the one for you. But if you want the best photo stops, this is it. There is no age or weight limit.
What guests are saying:
This tour was the highlight of our seven day Alaskan cruise! Our guide, John, was very friendly and knowledgeable. He kept us entertained the entire trip. He went over and above a typical tour guide. We stopped at many sites to take pictures and he was always glad to take pictures of our group! We saw many beautiful sites on this tour. He gave us good information about the town when he dropped us off. We would definitely recommend this company and especially this tour guide! Thank you!! -JoAnn and Steve Mingura
Learn more and to book your Yukon Discovery for your Skagway port date!
---
Best Glacier Experience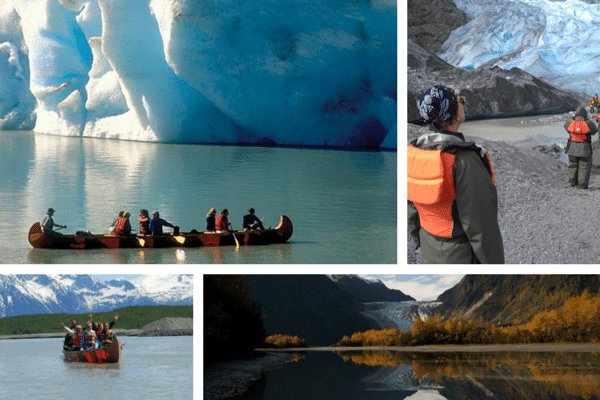 Explore the Lynn Canal, Tongass National Forest, and the Davidson Glacier on the stunning 6-hour Glacier Point Wilderness Safari excursion. Your trip starts off on a customized boat that will take you down the Lynn Canal towards Haines. The boat ride out to Glacier Point takes about an hour, and you land right on the beach in your own version of the invasion of Normandy. Once you've donned all the gear needed for the day, you'll make your way to the Davidson Glacier in 10-person canoes.
While walking on the glacier isn't guaranteed, Glacier Point guides do their best to get you up close and personal. If you do get the chance to walk on it, you'll have plenty of time for pictures and for staring in awe at the giant mass of ice. If conditions don't allow you to walk on it, the guides will often fish chunks of the glacier out of the lake for you to look at and handle.
During the excursion, there is a lot of time spent on boats, and the nature of the tour is fairly educational. Also included on this tour is a picnic-style lunch. The weight limit for the Glacier Point Wilderness Safari is 50 to 350 lbs, there is a minimum height requirement of 4'10" and a minimum age requirement of 7-years-old.
What guests are saying:
This was one of our favorite excursions during our Alaska cruise. From the boat ride with amazing views to the essentially private glacier experience. The guides were knowledgeable, organized, and fun. Would highly recommend this tour! -Melissa Yeh
Learn more and book the Glacier Point Wilderness Safari for your Skagway port date!
---
Most Historic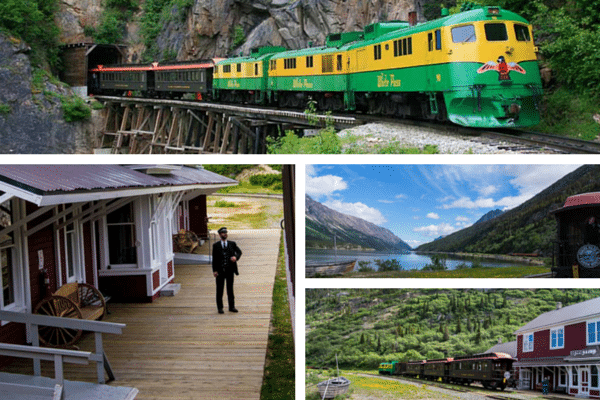 Cover the entire 67.5 miles of the White Pass and Yukon Route Railroad on this 8-hour tour. Many people come to Skagway and hop right on the train. The downfall of the standard train trips is that they simply summit the White Pass and turn around, so you miss some of the most beautiful points that lie just beyond that.
This tour takes you up into the Yukon to Emerald Lake and Carcross, with a very educated guide leading the way. WP&YR is known to provide some of the most in-depth education to its guides so that they can pass their knowledge on to you.
Both the train and bus portions of this trip are fully narrated, but you'll have more chances to ask questions on your bus ride, where the group is much smaller. On the train, one person narrates for the entire line of cars, so it can be difficult to reach them!
This small-group tour departs Skagway just 1-2 times a day. And space is limited, so if you're a history buff, it's best to book early! There are no weight or age restrictions on this tour.
What guests are saying:
All of our excursions were fantastic, but this was the most scenic and relaxing! The train ride was fun and took you back in time and the shuttle ride back to Skagway was equally wonderful. Our driver Mike was a historian of the gold rush and had a wonderful sense of humor. We have already recommended this experience to our friends and family. -Jennifer Bennett
Learn more and book your Bennett Lake Scenic Journey for your visit to Skagway!
---
Most Unique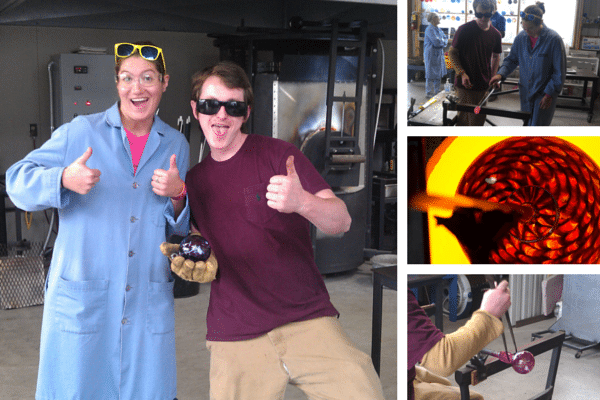 Why take home the same t-shirt as everyone else, when you can create something that is uniquely yours? The 2-hour Glassblowing Experience at Jewell Gardens gives you time to wander around the gardens followed by an awesome demonstration from one of the master glassblowers. After the demonstration, you have to opportunity to create your own glasswork! You can choose from tons of different colors and designs, leading to a one-of-a-kind ornament or globe. You can even add gold leaf!
This isn't like those "make your own pottery" places, where you end up with a wonky version of a bowl. The master glassblowers assist you every step of the way, so you'll definitely end up with a souvenir you can be proud of.
While there is no minimum age to this tour, you are around hot ovens and glass pieces so we recommend it for ages 5 and up. However, observers can join this tour for just a small price and watch the experience while also enjoying the beautiful gardens.
What guests are saying:
This was such an up-close learning experience and truly hands-on. Plus we have our handmade Alaskan keepsake! It was beautiful, we learned a lot, and good for all ages. The grounds are so beautiful, peaceful, and little hidden gems of details throughout. I highly recommend this unique experience. -Lisa
Learn more and book the Glassblowing Experience for your time in Skagway!
---
We hope this list helps you narrow down your Skagway excursion options. But if you have any questions, or are wondering what else Skagway has to offer, contact us! Our tour specialists and reservations agents are here to help.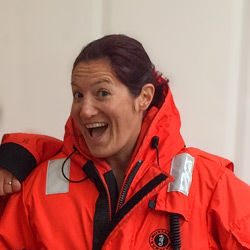 Brittany K
Zipline Guide & Travel Guru